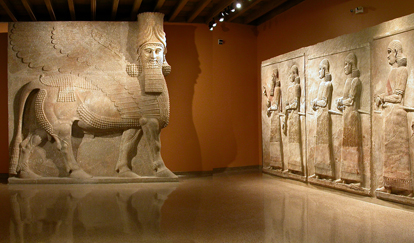 Historic Hyde Park is a treasure trove of cultural and educational riches. This Urban Excursion was written by staff at the Oriental Institute: Discover a40-ton sculpture from Assyria, a 17-foot tall statue of King Tut and so much more at this free admission museum, which has plenty of hands-on activities for families!
Walk along the Midway: The Midway Plaisance, which connects Jackson Park with Washington Park, was the site of the world's first ferris wheel, Buffalo Bill's Wild West Show and other amusements and exotic attractions during the 1893 World's Fair. Walk the paths in the Reader's Garden (59th St. Between University and Ellis); see the light sabers that illuminate the Midway crossings on University and Ellis Avenues.
Visit Rockefeller Chapel: sit in the pews for quiet reflection and listen to the bells chime (59th and Woodlawn).
Discover Robie House: Robie House is Frank Lloyd Wright's 1909 masterpiece of Prairie School architecture (58th St. and Woodlawn).
Tour the galleries of the Oriental Institute, one of the finest collections of artifacts from the ancient Middle East (58th St. and University)
Stroll the Quadrangle of the University of Chicago, which has been designated an official botanical garden. Check on the turtles (and depending on the season, the ducklings!) in Botany Pond (south of Hull Gate, 57th St. between University and Ellis.
Enjoy a casual bite at a cafe on 57th Street: such as the Medici Bakery and Restaurant and Salonica.
Browse through the many famous new and used bookstores of Hyde Park (corner of 58th St. and University, and 57th St. between Kimbark and Harper) such as 57th Street Books, Powell's and the Seminary Co-Op.

To learn more about the free admission Oriental Institute Museum, click here! Want to see all of the Hyde Park attractions mentioned above on a map? Check out our printable neighborhood guide.
Explore Hyde Park & Kenwood on a guided Chicago Neighborhood Tour on July 16 or September 24. Or book an affordable Hyde Park Family Adventure on July 23!
Discover two interactive challenges on The Midway playing SCVNGR, a free games for your mobile phone: Complete the Come on Feel the Illinoise! challenge inspired by Sufjan Stevens, part of the Explore Chicago Music Trek for SCVNGR! Or hop on a bicycle and learn art on The Midway playing the Bike the Boulevards Trek for SCVNGR, developed in Partnership with WTTW!
Tags: Architecture, History Trek, Literary Trek, Museum Trek, Neighborhood Trek, SCVNGR and Foursquare Badges