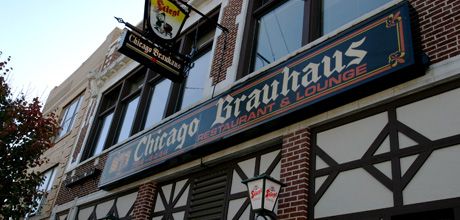 Find the best bratwurst, shop at hip boutiques, or enjoy the Chicago Folk & Roots Festival, July 9-10! There's so much to do in Lincoln Square and Ravenswood!
Uncover Lincoln Square's hidden gems with our suggested itinerary below, on a guided Family Adventure, or our Explore Lincoln Square Terk for SCVNGR, a free game for your mobile phone!
Enjoy hip shopping: Browse vinyl records at Laurie's Planet of Sound; sip wine and flip through a book at The Book Celler, which has a cozy cafe; get a new look at any number of hip women's boutiques and consignment stores that line Lincoln; or find the perfect present for a friend at one-of-a-kind boutiques specializing in gifts for cooks, gifts for new parents, people who love running, wine-lovers, and so much more! Lincoln Square's charming boutiques line Lincoln Avenue from Lawrence to Montrose.
Eat the best wurst: Just down this quiet one-way block is one of the most authentic German restaurants in Chicago, the Chicago Brauhaus (located at 4732 N. Lincoln Ave.), where you can enjoy a sausage (or, "wurst"), potatoes, schnitzel, or any number of German dishes that have been served up hot for over 60 years! Top your meal off with any number of German beers on tap, served in traditional half-liter and liter glasses. On weekend nights, enjoy live polka music and learn a few steps or two on the dance floor by restaurant regulars who'd love to help you learn. Next door, Gene's Sausage Shop and Delicatessan sells a wide selection of foods and drinks imported from Europe, and others created locally but inspired by European recipes.
Learn a new rhythm: If you've ever wanted to learn an instrument, any instrument, chances are there's a class you can take at the Old Town School of Folk Music in Lincoln Square. Whether its guitar, banjo, ukulele, or even African drumming and Go-Go dancing, you can be sure that the Old Town School (with a few other locations around the city) has a class to fit your schedule. Interested in appreciating live music without being on stage? Attend a concert at the school, or head out to the free admission Chicago Folk & Roots Festival in Lincoln Square's Welles Park, July 9-10, which is put on annually by the school.
Take a trip back in time at a local apothecary: There are almost innumerable shelves of sweet smelling soaps, shampoos, and perfumes at Merz Apothecary, with its original location in Lincoln Square. Wander the center wide aisle and ask friendly staff about clever imported creams, buy a flavored toothpaste to change up your morning routine, or grab a beautiful little present for someone special. This location, at 4716 N. Lincoln Ave. has been an apothecary for over 100 years, and it'll feel like you're stepping back in time from the moment you enter, until you're back outside in the 21st Century.
Get busy with paint, metal, or glass: You can definitely never be too old to learn new tricks, and if you're interested in getting a little more artistic, then the Lillstreet Art Center is the place for you. Located at 4401 N. Ravenswood Avenue, you can take a class on printmaking, painting, metalworking, or even digital photography whether you're an adult, or a kid.
Explore Lincoln Square on a Family Adventure on August 12! Explore Chicago with affordable, fully-guided adventures created just for families! Begin with a fun performance and drum circles at the Old Town School of Folk Music. Then, enjoy lunch and an opportunity to put your culinary skills to the test with a hands-on activity at the Chopping Block. Book now!

For more information on neighborhood, including detailed attractions, shopping, and dining listings, check out our printable neighborhood guide and interactive Google map. Explore the neighborhood's hip boutiques and hidden gems, play our Explore Lincoln Square Trek for SCVNGR, a free game for your mobile phone!
Tags: Cultural Heritage, Great Itineraries for First Time Visitors, Lincoln Square, Music in Chicago, Neighborhood Trek, Ravenswood, SCVNGR and Foursquare Badges, Visual Art