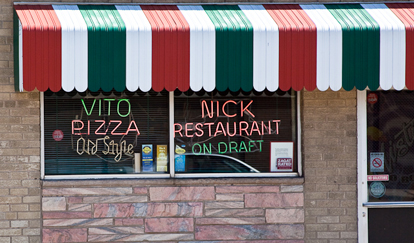 From a cake and candy to hearty sausages, there's so much to enjoy eating in Ashburn! Discover where Frango Mints are made and answer some hip hop trivia along the way by a completing a challenge from the Explore Chicago Music Trek for SCVNGR, a free game for your mobile phone!
Take a cake walk: Neighborhood favorite bakery The Cake Walk (on South Pulaski Road) serves up not only cakes, but also very popular butter cookies. Rumored to be the same recipe that thousands of Chicago Public School children have enjoyed (the owner's mother used to be an employee), the bakery's butter cookies are a crowd favorite.
Enjoy a thin slice: Chicago may be famous for its dense stuffed pizza, but at Vito and Nick's Pizzaria, you can follow the weekend crowds to cozy tables for a thin slice of pizza. They've been dishing it out since 1949 when many of the neighborhood's residents moved to the area after World War II.
Complete the Southside Challenge: Vito & Nick's is also the place you'll want to head to complete the Southside Challenge for SCVNGR, a free game for your mobile phone. Answer the trivia question "Which Chicago hip-hop artist attended school in Chicago's Ashburn neighborhood before trading verses with Kanye West on the song "Southside"? here and you're one step closer to earning your Explore Chicago Music Trek badge!
Load up on Italian favorites: Opened just weeks after Vito and Nick's, Rosario's Italian Foods is another Ashburn institution where patrons can stock up on Italian sausages, sandwiches, and a variety of deli meats. Along with an array of cheeses and sauces, you can find just about anything in this traditional deli. If you have any trouble locating Rosario's, just look for the animated neon sign of pigs, hopping rather gleefully into a sausage grinder.
Stroll through the woods: If you're stuffed from a full meal, try working off some of those calories while you enjoy some fresh air in Dan Ryan Woods, which is partially located in Ashburn. Even though the neighborhood was named after piles of ash dumped there when the city was still growing, there's no dirty piles here. Enjoy ballfields, nature paths, and wooded areas over more than 60 acres.
Grab a sweet something for a love: At Cupid Candies, you can buy a sweet treat for a loved one (or just for yourself). Not only have they been producing candy since 1936, but they recently started manufacturing Frango candies, which brought the business back into Chicago after a brief out-of-state hiatus. Stop in to their Western Avenue location to grab a little something for that special someone.
Check out some art…at the Chicago Public Library: The Wrightwood-Ashburn Branch Library (8530 S. Kedzie Ave.) is home to four works of art: stained glass by Candida Alvarez, a relief sculpture by Anthony Brankon, a collage by Gerald Griffin, and a painting by Ron Pokrasso! Head to the nearby Hayes Park natatorium (2940 W. 85th St.) to cool off  or to check out a six-panel ceramic mural "In the Swim" by Laurie Shaman.

For more information on Ashburn, including detailed attractions, shopping, and dining listings, check out our printable neighborhood guide and interactive Google map.
Tags: Music in Chicago, Neighborhood Trek, Public Art and Outdoor Sculpture, SCVNGR and Foursquare Badges