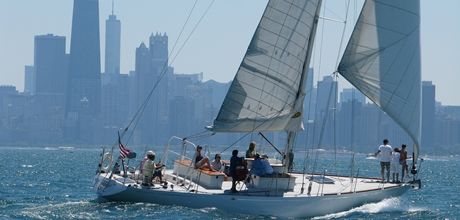 Take advantage of one of the longest days of the year to sail Lake Michigan with Chicago Sailing's Summer 'Sailstice', featuring games and food on the lakefront and boats available to charter all day long. It's our breezy 175 Days to Love Chicago pick for Saturday, June 23!
Summer Sailstice is a global celebration of sailing, celebrated on the longest sailing day of the year. Chicago Sailing, which offers sailing lessons and rents out 25 types of boats, will celebrate the Sailstice all day long with shoreside games and a barbecue at Belmont Harbor on Saturday, June 23. Boats will be available all day for charter. Enjoy giveaways as well free gear and discounts on services.
Celebrate Summer Sailstice on Saturday, June 23 from Noon – 6pm at Chicago Sailing, located at Dock B at Belmont Harbor (map – 3550 N. Recreation Dr.) For more information, visit: http://www.chicagosailing.com

175 Days to Love Chicago celebrates Chicago's 175th birthday with an exciting 175-day series of programs, promotions and fun history. Launching on the 175th anniversary of the city's incorporation on March 4 and continuing through August 26, 2012, this cultural calendar offers visitors and residents exciting opportunities to explore Chicago every day. From special events to special packages at local hotels, the campaign showcases the breadth and vibrancy of Chicago's cultural landscape. For more information, visit http://www.explorechicago.org/175days.