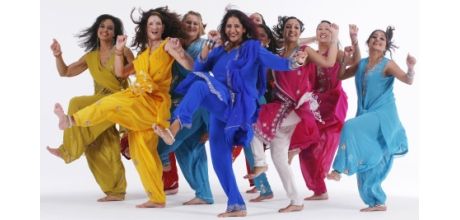 Upbeat Bollywood music provides the soundtrack for an hour of hip shaking, shoulder shimmying fun at a Bollywood Dance for All, our 175 Days to Love Chicago pick for Wednesday, June 20.
Whether you secretly dance to 'Jai Ho' from the soundtrack of Slumdog Millionaire or have never even heard of Bollywood before, this 60 minute dance session will help you break a sweat while having a great time! A combination of joyous Bollywood music and fun moves makes Bollywood Groove Dance a favorite among those with a love for arts and culture around the world.
Get an introduction to a new set of Indian-inspired moves at Bollywood Groove's Bollywood Dance for All on Wednesday, June 20 at Hubbard Street Dance Chicago's Lou Conte Dance Studio (1147 W. Jackson Blvd.), $10. Reservations are not required. The groove continues every Monday and Wednesday night at Bollywood Cardio Classes, 6:30-7:30pm, also at Lou Conte Dance Studio. Drop into regular weekly classes for $15, or purchase a discounted multi-class card. For additional information please visit: http://www.bollygroove.com

175 Days to Love Chicago celebrates Chicago's 175th birthday with an exciting 175-day series of programs, promotions and fun history. Launching on the 175th anniversary of the city's incorporation on March 4 and continuing through August 26, 2012, this cultural calendar offers visitors and residents exciting opportunities to explore Chicago every day. From special events to special packages at local hotels, the campaign showcases the breadth and vibrancy of Chicago's cultural landscape. For more information, visit http://www.explorechicago.org/175days.
Tags: 175 Days to Love Chicago, Music in Chicago, Sports and Recreation, Theater and Dance