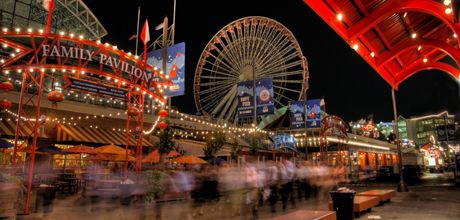 Celebrate Chicago's 175th anniversary this year with 175 Days to Love Chicago, featuring the following events taking place over the next 10 days, June 13 – 22, 2012.  From dining and shopping deals created exclusively for this celebration, to guided tours of the city and marquee special events, 175 Days to Love Chicago offers hundreds of new and unique ways for both residents and visitors to enjoy and explore Chicago. 
Since the city's official birthday on March 4th, we have been featuring 175 Days to Love Chicago events daily through August 26, 2012.  For a full listing of all 175 Days to Love Chicago events, visit www.explorechicago.org/175days.
Celebrate Chicago's Demisemiseptcentennial (yep, that's 175th anniversary!) with :
This Week in Chicago History, from Alderman Edward Burke
George W. G. Ferris debuted the world's first Ferris Wheel on June 21, 1893 at the World's Columbian Exposition in Jackson Park.  The Fair's Director of Works, Daniel Burnham, called on his engineers to create a distinctive centerpiece for the Exposition that would be 'Chicago's answer to the Eiffel Tower,' which was designed for the 1889 Paris Exposition.  Ferris's wheel was assembled on site of pieces created around the country, including a 46 ½ ton axle forged by the Bethlehem Iron Company in Pittsburgh – the largest single piece of steel ever forged in the U.S. at the time.  Two 1000hp steam engines powered the wheel from a plant constructed several hundred feet away, and the 264 feet tall wheel opened to the public with 36 passenger cars, each holding a maximum of 60 people.  Until it closed on November 6, 1.5 million fairgoers experienced unparalleled views of the booming city for merely 50 cents a piece.  The wheel was dismantled and rebuilt at 2653 N. Clark Street near Lincoln Park in 1895, and later shipped to St. Louis for the 1904 World's Fair where it remained until its destruction.  The Ferris Wheel at Navy Pier is modeled after George Ferris's original, and continues to offer a unique vantage point for those who wish to take in a bird's-eye view of the city.
Alderman Burke is the longest serving alderman in Chicago history.  He has represented the city's 14th Ward in City Council for the past 43 years.  Alderman Burke is also the author of several books on Chicago history and its heroic firefighters and police officers.
175 Days to Love Chicago celebrates Chicago's 175th birthday with an exciting 175-day-series of programs, promotions, and fun history. Launching on the 175th anniversary of the city's incorporation on March 4 and continuing through August 26, 2012 this cultural calendar offers visitors and residents exciting opportunities to explore Chicago everyday. From special events to special packages at local hotels, the campaign showcases the breadth and vibrancy of Chicago's cultural landscape.  Visit www.explorechicago.org/175days to see all featured events.