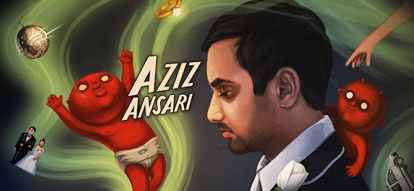 Parks & Recreation's Aziz Ansari headlines two performances
From June 12-17, some of the biggest names in comedy, including Conan O'Brien, Aziz Ansari, Vince Vaughan, Sarah Silverman, Patton Oswalt and Kevin Smith are performing in Chicago during the TBS Just for Laughs Chicago Comedy Festival, our 175 Days to Love Chicago pick for Tuesday, June 12.
The 4th annual TBS Just For Laughs Chicago, the nation's biggest comedy festival, presents an astonishing array of comedians, sketch shows, specialty acts and films presented at some of Chicago's most iconic venues.
This year's headliners included Conan O'Brien, who will be taping his TBS show live; Parks and Recreation star Aziz Ansari; Chicago native, Vince Vaughn, who will host a special night with his funniest friends; English superstar and co-creator of The Office, Stephen Merchant; comic genius Patton Oswalt; Emmy Award winner Sarah Silverman, John Oliver from The Daily Show with Jon Stewart; film icon Kevin Smith; plus The Dan Band and Henson Alternatives' Stuffed & Unstrung – a live uncensored improv show with the Miskreant Puppets. Adam Sandler makes a special appearance to introduce an advance screening of his new movie That's My Boy at the Kerasotes Showplace ICON on Thursday, June 14.
That's just for starters: the festival encompasses over 55 shows in 18 diverse venues including The Second City's UP Comedy Club, iO Theater, Playground Theatre, Lincoln Lodge, Annoyance, Lincoln Hall, Beat Kitchen, Jokes and Notes and more. Park & Recreation's Nick Offerman, Janeane Garofalo, Brian Posehn, 30 Rock's Scott Adsit, Adult Swim's Jon Glaser are just a few of the folks performing in more intimate venues. In addition to showcasing an incredible array of headling talent, the festival also showcases local improv and stand-up comedians, like Chicago's own Hannibal Buress, Jet Eveleth, Susan Messing, Kyle Kinane and others. A showcase of independent comedic shorts and feature films at Gene Siskel Film Center compliments the festival's extensive live programming.
TBS Just for Laughs, presented by State Farm, encompasses over 55 shows in 18 venues citywide, June 11-17. For tickets and information, visit: www.justforlaughschicago.com

175 Days to Love Chicago celebrates Chicago's 175th birthday with an exciting 175-day series of programs, promotions and fun history. Launching on the 175th anniversary of the city's incorporation on March 4 and continuing through August 26, 2012, this cultural calendar offers visitors and residents exciting opportunities to explore Chicago every day. From special events to special packages at local hotels, the campaign showcases the breadth and vibrancy of Chicago's cultural landscape. For more information, visit http://www.explorechicago.org/175days.