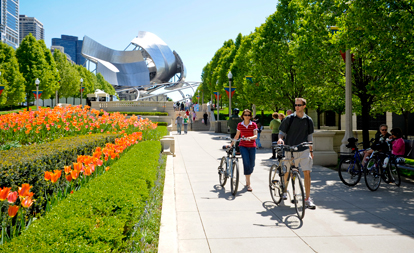 Bike to Work Week is back, June 11-15! With a downtown bike commuter rally, free outdoor spin classes at Cloud Gate and free screenings of bike-themed films like Pee Wee's Big Adventure, this FREE week-long celebration–and our 175 Days to Love Chicago pick for Monday, June 11–is sure to make Chicago a little greener and a lot more fun!
Chicago celebrates Bike to Work Week June 11 – 15, 2012, as part of the city's year-round Bike Chicago initiative to make the city more bicycle friendly and environmentally conscious.
Events during the week include Bike to Work Rally at Daley Plaza on Friday, June 15, celebrating Chicago's commitment to being the best big city for cycling. Learn about Chicago's more than 110 miles of bike lanes, 50 miles of bike paths and 12,000 bike racks. Join more than a thousand fellow cyclists on Daley Plaza for live music, a free t-shirt, hot breakfast, Sierra Mist Natural Bie Valet and much more. The Bike to Work Rally is presented by the City of Chicago and Goose Island Beer Company.
Free outdoor spin classes will be offered at Cloud Gate in Millennium Park, June 11 – 14.  Enjoy a screening of bike film shorts from all over the world on Monday, June 11 at Goose Island Brewpub, and a screening of Pee-Wee's Big Adventure on the Great Lawn of Millennium Park on Tuesday, June 12.  Finally, enjoy a free, 2 hour mini tour of the Loop by bike on Thursday, June 14.
Heading to the Chicago Blues Festival June 8-10? Take advantage of free bike valets while you're there!
Bike to Work Week events are free and happen in Daley Plaza and at venues citywide. Join in the celebration June 11 – 15. For a full schedule of the week's events and for more information on cycling in Chicago year-round, visit bikechicago.us

175 Days to Love Chicago celebrates Chicago's 175th birthday with an exciting 175-day series of programs, promotions and fun history. Launching on the 175th anniversary of the city's incorporation on March 4 and continuing through August 26, 2012, this cultural calendar offers visitors and residents exciting opportunities to explore Chicago every day. From special events to special packages at local hotels, the campaign showcases the breadth and vibrancy of Chicago's cultural landscape. For more information, visit http://www.explorechicago.org/175days.
Tags: 175 Days to Love Chicago, Millennium Park, Sports and Recreation, Summer in Chicago, The Loop