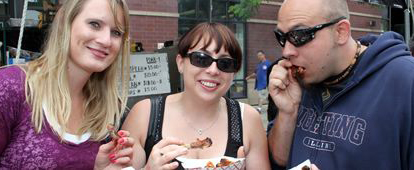 If you're into slow-cooked, quickly eaten and downright messy meats, you're gonna love Ribfest Chicago. This weekend-long, Northcenter fest kicks off Friday, June 8, with RIBMANIA!, the only professional rib-eating contest in the Midwest, and two stages of live indie music. If you show up hungry, you're bound to leave happy from this 175 Days to Love Chicago pick.
There's even more to Ribfest Chicago than ribs. You can see as many as twenty bands, including J. Roddy Walston & the Business, Megafaun and Heartless Bastards.
Kids will be giggling en masse with games, inflatables and entertainment from Aerial Dance Chicago, Bubbles Academy and more in Kids Square.
And you'll find a variety of beers, Gnarly Head wine and veggie offerings like shish kabobs and smoked yams as the vibrant local community comes out to celebrate summer in this lovely section of Northcenter.
And yes, there will be more ribs than you can shake a sauce-covered fist at—right around 50,000 pounds of pork! You can get in on the good eats as barbeque masters citywide compete for Best Ribs and People's Choice awards at this musical, kid-friendly, super-meaty neighborhood celebration.
Get your grub and your groove on at the 14th annual Ribfest Chicago on Lincoln Ave. between Irving Park Rd. and Berteau Ave. from Friday, June 8 – Sunday, June 10. (Hours: Friday, 5 – 10 pm; Saturday & Sunday, 12 Noon – 10 pm). (FREE; gate donation requested $5). For more details on all of the live music and more, check out www.ribfest-chicago.com.

175 Days to Love Chicago celebrates Chicago's 175th birthday with an exciting 175-day series of programs, promotions and fun history. Launching on the 175th anniversary of the city's incorporation on March 4 and continuing through August 26, 2012, this cultural calendar offers visitors and residents exciting opportunities to explore Chicago every day. From special events to special packages at local hotels, the campaign showcases the breadth and vibrancy of Chicago's cultural landscape. For more information, visit http://www.explorechicago.org/175days.