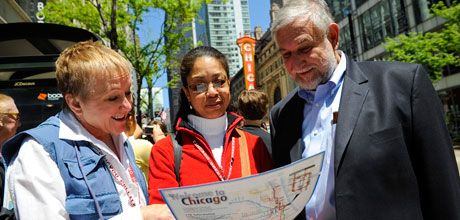 Explore Chicago with a friendly, knowledgeable Chicago Greeter as your guide. This free service, offered daily, is our 175 Days to Love Chicago pick for Monday, June 4!
Explore Chicago with a friendly, knowledgeable local as your guide! Visitors to Chicago can register for a free 2-4 hour guided visit of a neighborhood or special local interest of their choice.  Guests are matched with one of over 200 enthusiastic volunteer Greeters who love sharing their expertise and passion about the city and all there is to see and do here. Visits are offered in a number of different languages.
Looking for more flexibility, or making plans to visit Chicago at the last minute?  Let InstaGreeter take you on a FREE hour-long guided walk of Downtown or popular neighborhoods and attractions.  InstaGreeter is offered on weekends, and registration is not required.
For more information on the Chicago Greeter service, view our full event listing.

175 Days to Love Chicago celebrates Chicago's 175th birthday with an exciting 175-day series of programs, promotions and fun history. Launching on the 175th anniversary of the city's incorporation on March 4 and continuing through August 26, 2012, this cultural calendar offers visitors and residents exciting opportunities to explore Chicago every day. From special events to special packages at local hotels, the campaign showcases the breadth and vibrancy of Chicago's cultural landscape. For more information, visit http://www.explorechicago.org/175days.
Tags: 175 Days to Love Chicago, Cultural Heritage, Freebies, Great Itineraries for First Time Visitors, Music in Chicago, Neighborhood Itineraries