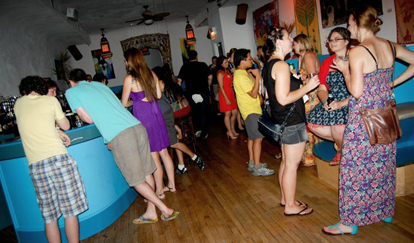 Photo Courtesy Hostelling International Chicago
Travelers young (and old) know that staying at a hostel is a great way to stretch your vacation budget and to meet travelers from around the world. Whether you're a backpacker visiting Chicago for a summer music festival, a vacationing family looking for affordable room and board, a youth hostel could be just the right choice for your next Chicago adventure.
We spoke with Sharday El-Assar, the Hostelling International Chicago Community Liaison at the J. Ira and Nicki Harris Youth Hostel (24 E. Congress Parkway), to gather some inside information on the hostel experience.
Despite what you might think, you don't always have to be a youngster to stay in a youth hostel. El Assar notes that some hostels impose an age restriction of 18-35, but at the J. Ira and Nicki Harris Youth Hostel, any age visitor can stay there (though if you're under 18, you will need a parent or guardian with you at the hostel).
Hostels make it easy to make new friends, El-Assar notes. You stay in a shared room, she says, either with up to ten beds or a semi-private room with just a pair of beds. "You can stay with a family member or friend in a smaller room, but we really put a focus on the whole community aspect of connecting travelers with each other. So we like the idea of having a lot of common space so you can come down and mingle with other travelers from other countries or whatever might be the case. It's more like a college dorm experience."
Don't expect a 24/7 party, however. There are imposed quiet hours from 11 p.m. to 7 a.m. with added secure entry at night. There are also in-room secure lockers and luggage storage to look after guests' belongings.
Amenities at hostels are actually similar to a hotel, except for the wallet-friendly price (dorm beds start at $30) and opportunities to make new friends. At the Harris Youth Hostel, they provide linens and towels (you do need to bring your own toiletries), as well as a continental breakfast buffet each morning. You'll find a friendly staff member at the hostel's front desk 24 hours a day, which not only provides security for guests, but also allows staff and volunteers to interact with visitors and suggest cool Chicago sights and activities.
"We have a large number of volunteers who lead outings like tours of the city and neighborhoods, and special evening outings like a jazz club, comedy clubs, the Millennium Park concerts, and more," El-Assar says. "We also host in-hostel social events like receptions and dinners from time to time."
Hostel guests who are after unique musical connections will be inspired by one traveler at the Harris Youth Hostel. El-Assar said that one recent Blues-loving guest managed to meet both B.B. King and Buddy Guy in the same night after striking up a conversation with B.B. King's daughter while he was out exploring the city's music scene.
Chicago's major summer events are so popular, it means it's easy for hostels to fill up with reservations far in advance of the festival weekends. Book today, and rest assured in the knowledge that Chicago's hostels offer a safe and affordable lodging option when you're up for exploring Chicago.
Pair a stay at a Chicago hostel with a trip to a summer music festival like the annual free Chicago Blues Festival (June 8-10, 2012),  the weekly free Downtown Sound summer concert series in Millennium Park (Monday nights, May 28- July 30, 2012), the Pitchfork Music Festival (July 13-15, 2012) in Union Park, Lollapalooza (August 3-5, 2012) in Grant Park, and the second annual North Coast Music Festival (August 31-September 2, 2012) (also in Union Park). To book a stay at the J. Ira and Nicki Harris Youth Hostel, visit their website, or call 312-360-0300.
Tags: Family Fun, Music in Chicago