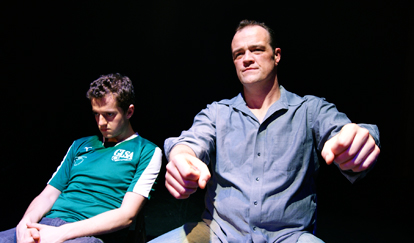 Ethan Dubin (left) and Sean Bolger on the road…. (photo by Cesario Moza)
Sit back and enjoy the ride as media-mixing, innovative theater company Collaboraction takes the wheel of Dan LeFranc's award-winning play Sixty Miles to Silver Lake, our 175 Days to Love Chicago pick for Sunday, April 22.
As tensions rise in Collaboraction's rendition of a father-son journey from Orange County to Los Angeles, you'll see why Sixty Miles to Silver Lake earned Dan LeFranc the 2010 New York Times Outstanding Playwright Award. Starring Sean Bolger as a recently divorced father and Ethan Dubin as his resentful teenage son, the play takes an ordinary car ride home from soccer practice and transforms it into a dramatic scenario that examines the complexity of family relationships, exploring how they shape us.
See Collaboraction's Sixty Miles to Silver Lake at the Flat Iron Arts Building (1579 N. Milwaukee Ave. #336) on Sunday, April 22, at 8 pm for the special 175 Days to Love Chicago rate of $10. The show runs most Thursdays – Mondays from April 19 – May 27 (previews $15; regular admission $25). Get specifics and tickets here. Also, be sure to keep an eye out for their always evocative 12th Annual SKETCHBOOK Festival coming this June.

175 Days to Love Chicago celebrates Chicago's 175th birthday with an exciting 175-day series of programs, promotions and fun history. Launching on the 175th anniversary of the city's incorporation on March 4 and continuing through August 26, 2012, this cultural calendar offers visitors and residents exciting opportunities to explore Chicago every day. From special events to special packages at local hotels, the campaign showcases the breadth and vibrancy of Chicago's cultural landscape. For more information, visit http://www.explorechicago.org/175days.
Tags: 175 Days to Love Chicago, Theater and Dance, Wicker Park