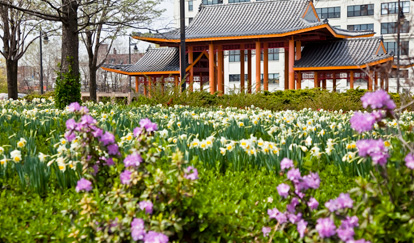 Ping Tom Park in Chicago's Chinatown neighborhood
The Department of Cultural Affairs and Special Events (DCASE) is inviting all residents to submit their own photographs of Chicago for a rotating exhibition at City Hall at the Office of the Mayor, beginning in mid-May.  The exhibit will periodically be refreshed with new images that will be printed, matted and framed.
"Mayor Emanuel has sought to make his office a showcase for local art and furniture; this display in the vestibule outside his office and the fifth floor lobby is an extension of that," said DCASE Commissioner Michelle T. Boone.  "There is an artist living in all of us so here's an opportunity for everybody who has taken a Chicago photo to have their work exhibited."
For consideration to be part of the exhibit, photographers must email low resolution (72dpi) photo to visualart.submission@cityofchicago.org.   The exhibit will be curated by the Visual Arts Division of DCASE and to be considered for the first installation scheduled for week of May 14, entries must be received no later than April 24.    Selected applicants will then supply a high resolution print-ready photo (300 dpi sized at least 3000 x 4200 pixels.)
Framed photos will be provided to applicants when exhibit is completed.  For more information, visit the exhibit website at www.chicagopix.org.