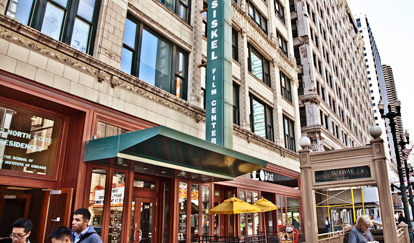 Gene Siskel Film Center
Immerse yourself in 1978 Chicago as you listen to funky, bluesy sounds and see local sights in a musical journey around the city's South Side, Stony Island. Stick around after the screening to hear director Andrew Davis and special guests talk about the making of this iconic film at the Gene Siskel Film Center in our 175 Days to Love Chicago pick for Thursday, April 5.
Way before making blockbusters like The Fugitive (starring Harrison Ford) and A Perfect Murder (starring Gwyneth Paltrow and Michael Douglas), director Andrew Davis started a phenomenon with Stony Island, his first feature-length film, in 1978. You'll be carried along as you watch the stars of this movie play their hearts out in this story of a group of South Side Chicagoans united by the dream of achieving musical greatness.
Head to the Gene Siskel Film Center to see an indie film from a time before the rise of independent media, and stay after the show to take part in a discussion with Andrew Davis, writer and producer Tamar Hoffs, and stars Richie Davis and Susannah Hoffs.
See Stony Island Thursday, April 5 at 8:15 pm at the Gene Siskel Film Center (164 N. State St.). For a special discount, get your ticket in person! Mention 175 Days when you buy your ticket at the box office to pay only $7. General admission is $11. Purchase tickets online here. Keep up with all the screenings happening at the Gene Siskel Film Center here.

175 Days to Love Chicago celebrates Chicago's 175th birthday with an exciting 175-day series of programs, promotions and fun history. Launching on the 175th anniversary of the city's incorporation on March 4 and continuing through August 26, 2012, this cultural calendar offers visitors and residents exciting opportunities to explore Chicago every day. From special events to special packages at local hotels, the campaign showcases the breadth and vibrancy of Chicago's cultural landscape. For more information, visit http://www.explorechicago.org/175days.
Tags: 175 Days to Love Chicago, Films Made in Chicago, Music in Chicago