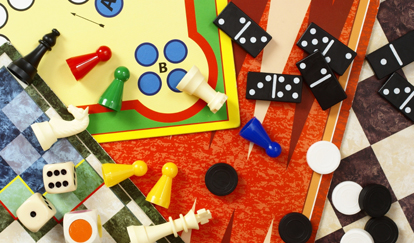 There are many bars in Chicago that not only stock a great selection of beers and liquors; they also keep boxes of games available for entertaining their patrons. We've got plenty of great suggestions for a great casual date night. 
Pick a Board Game From the Shelf at a Pub Near Wrigley Field. At Guthrie's Tavern (Lakeview), just a few blocks west of Wrigley Field, you can get a mental workout with a bookshelf full of board games and cards. Get there early to claim a table and lay out a fresh game of Candy Land, Yahtzee, checkers, Jenga, Battleship, or just a game of Go Fish and enjoy an evening out.
Enjoy a Tasty Burger with a Side of Foosball. At The Bad Apple (North Center) you can enjoy a tasty burger (often noted in Chicago "Best Burger" lists) or any number of brews along with a fun selection of entertainment options in the "game room" including board games, pinball, foosball, and table shuffleboard.
Put a Dollar in the Jukebox, And Play Connect Four. After a date night dinner in Wicker Park, head to The Beachwood Inn to partake of their great selection of board games, and their popular jukebox. Rock out while you let your date beat you at Connect Four. Cash only.
Get Cozy and Sip Wines at Beviamo (University Village), where you can play board games and enjoy a romantic evening for two. This quiet wine bar offers over 80 wines (half of which are also available by the glass) many from boutique vineyards. There's no cover for the occasional musical entertainment, and reservations are accepted.
Snap a Pic in the Photo Booth. If you get really into table shuffleboard, a great spot to enjoy it at Weegee's Lounge in Logan Square. Wegee's has a serious devotion to classic cocktails, but is still a hidden gem, especially on weeknights. The bar is named after Arthur Felig – a noted black and white photojournalist, whose nickname was "weegee". Get cozy in Weegee's own photo booth for a real date night keepsake!
Be a Pinball Wizard. Head to hipster hangout The Skylark (Pilsen) for pinball and tots on your date night. The place is always full of local artists from Pilsen, and the occasional indie band. A great jukebox, a kitchen churning out Southern and comfort food favorites, like tater tots with three kinds of dipping sauces washed down with cheap beer, make for a fun indie date-night trifecta. Cash only.
Rock and Roll All Night. If you're into adding a rock show to your game-fueled date night, try the music venue Bottom Lounge (West Loop/Near West Side) for a variety of pinball games (word has it that pinball is free on Thursdays) along with some live entertainment. Besides a great music stage, they also rock an amazing kitchen with barbeque, Belgian frites, and steamed mussels, so you can have a full date night experience, all in one location.
Only Strikes, No Turkies. At Seven Ten Lanes in Hyde Park you can enjoy bowling or billiards, then nibble on burgers, or even jambalaya. Reserve a pool table or lane ahead of time — just don't get so caught up in the game that you forget to return those rented shoes before you leave for home!
Tags: Date Night, Great Itineraries for First Time Visitors, Hyde Park, Lakeview, Little Italy, North Center, Pilsen, Wicker Park, Wrigleyville