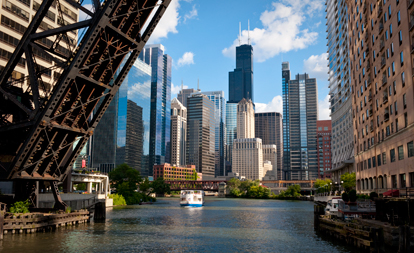 Listen in as Lynn Osmond, President and CEO of the Chicago Architecture Foundation, lays out a few of the many ways that Chicago's manmade masterpieces and master plan for city development have inspired architects and cityscapes around the world.
Gaze at Chicago's Striking Skyline and Learn About our History of Innovation. Since the 19th century, Chicago has been an incubator for new ideas, risk taking and innovation in skyscraper design. After the Great Chicago Fire of 1871, Chicago rebuilt itself (and the vision of what a modern city could be) by going skyward! Standing at the corner of Washington Street & State Street, you can pick out one of Chicago's oldest skyscrapers by its gleaming white terra-cotta façade. Designed by Burnham & Root, the fourteen-story Reliance Building (now Hotel Burnham and the Atwood Cafe) was completed in 1895.
Next, marvel at the groundbreaking, less-is-more designs of Ludwig Mies van der Rohe in Chicago's Federal Plaza (W. Adams St. & S. Dearborn St.). For more by this mid-20th century master, visit Crown Hall on the campus of the Illinois Institute of Technology where Mies shaped the architectural minds of his day.
See how Chicago continues to push the limits of structure and aesthetics as you gaze up at the undulating surface of Aqua (200 N. Columbus Dr.), designed by MacArthur Genius Jeanne Gang of Studio Gang Architects. Completed in 2010, the 82-story mixed-used building been acclaimed not only for its unusual design, inspired by natural granite outcroppings in Lake Michigan, but for its eco-friendly features.
Feel Frank Lloyd Wright's Influence on Open Floor Plans. These days, it's hard to imagine the way homes used to be laid out. Take a typical 19th-century Victorian home, where living and dining rooms were basically boxes with doors to separate one space from the other. The open floor plan so common in homes today owes a great deal to the Prairie Style homes designed by Frank Lloyd Wright in early 20th century Chicago. See his designs up close by exploring Robie House in Chicago's Hyde Park neighborhood.
Learn How Chicago Made Ancient Greece and Rome Popular (Once Again). The World's Columbian Exposition, held in Chicago's Jackson Park in 1893, made the 5th century BC fashionable again! Daniel Burnham and the team of World's Fair architects chose to model the Fair's grand pavilions after the ancient temples of classical Greece and Rome. For the next thirty years, Beaux-Arts civic buildings became ubiquitous across the United States. Explore Burnham's style revival and the intrigue behind the World's Columbian Exposition on the Chicago Architecture Foundation's Devil in the White City Tour, or visit the Museum of Science and Industry, housed in the Fair's renovated Palace of Fine Arts.
Explore the Chicago River by Boat, and See Giant Seesaws of Steel. Like two evenly balanced kids on a playground seesaw, Chicago's bascule bridges (meaning seesaw in French) rotate around a large fixed axle to raise and lower. Designed, built and perfected here in the early 20th century, this bridge type is still used in urban river crossings throughout the country. Today, Chicago still has more movable bridges than any city in the world. Float beneath several of these massive Chicago innovations aboard Chicago's First Lady on the Chicago Architecture Foundation River Cruise.
Enjoy the Beachy Benefits of the Burnham Plan. In many American cities, lake or oceanfront property is either only for the wealthiest of citizens of the land, or is taken up by industry. Thanks to the ideas spelled out in Daniel Burnham and Edward Bennett's 1909 Plan of Chicago and the efforts of Aaron Montgomery Ward, our city's sandy Lake Michigan beaches and parks remain a playground for the people. Learn more about Burnham's vast influence on the Chicago Architecture Foundation's Daniel Burnham: Architect, Planner, Leader Tour.

President and CEO of the Chicago Architecture Foundation, Lynn Osmond is an Honorary Member of the American Institute of Architects and has won numerous awards for her leadership and vision. Check out CAF's many exhibitions and programs, including the recently launched Loop Value: The How Much Does It Cost? Shop. You can also explore Chicago on foot, wheels and water with their fascinating tours.
This post is part of the 175 Ways to Love Chicago project (view more posts here), which features the perspectives of 35 unique Chicagoans. Presented by the Chicago Office of Tourism and Culture, in celebration of Chicago's upcoming 175th birthday on March 4, 2012. http://www.explorechicago.org
Tags: 175 Ways to Love Chicago, Architecture, Chicago River, History Buffs, Hyde Park, Jackson Park, Lakefront, Millennium Park, The Loop