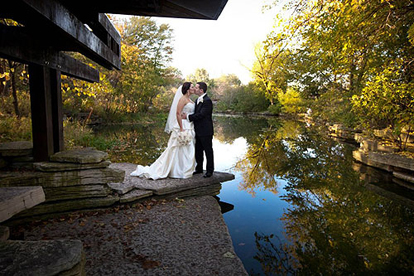 From the picturesque Alfred Caldwell Lily Pool in Lincoln Park to the Lake Michigan's dramatic shoreline, Wedding Photographers Anne Ryan and John Zich share their five favorite locales snap a shot with your sweetheart or enjoy a romantic kiss.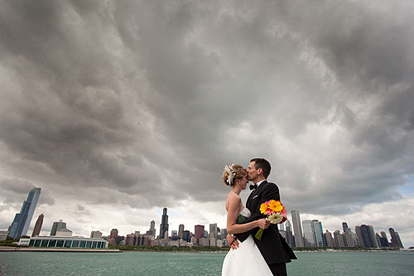 Let Nature Inspire You. You'll be amazed by the wealth of portrait locations at Fullerton Ave. & Lake Michigan. Just steps from Fullerton Ave., you can set up shots around Alfred Caldwell Lily Pool, a tranquil oasis in Lincoln Park, where you'll find stone paths winding through the trees, intimate perches along the water's edge, and a terraced stone waterfall. It looks and feels like it's not even in the city! Walk a quick two blocks to the beach and capture (or set) the scene, as water and sky cycle through hues of orange, magenta, green and blue in a matter of minutes as the sun sets. Look south and watch the as the magical and breathtaking skyline illuminates.
Snap an Iconic Shot (or Enjoy a Thrilling Kiss) as the 'L' Zips By. The iconic, ever-present Chicago 'L' Train weaves between downtown buildings, over river bridges and through Chicago neighborhoods. A photograph of the city can change in an instant as a train peeks around the corner or passes overhead. Capture this unmistakable Chicago signature in your photos or get great views of neighborhoods from its elevated viewpoint.
Create Timeless Memories (and Watch the Foliage Change Colors) in Millennium Park. One of our favorite places to stroll through, and photograph, is Millennium Park! Enjoy a backdrop of spectacular Chicago architecture and the serpentine bridge that connects the park to the lakefront. Every angle and every reflection in that bridge is magnificent day and night. During concerts, experience a treat for both the eyes and ears as the Pritzker Pavilion and the buildings behind it change colors when the reflecting sunset gives way to twilight. It's the perfect setting for a photograph or a date! And who can resist photographing Cloud Gate?
Get a Spectacular View of Chicago's Skyline at Museum Campus. You can't beat the view of the skyline from Adler Planetarium. Get a great photograph any day of the week, enjoy a romantic picnic on the grass in the summer, or join the parade of limos and trolleys on Saturday afternoons as newly married couples line up to be photographed on the biggest day of their lives!
Top it All off with a View from the Top of Willis Tower. We could list thousands of other wonderful locations in Chicago, but we just have to include The Ledge at Chicago Skydeck. It's like nowhere we've ever been before! Get amazing views of Chicago from a glass box that extends 4.3 feet from the Skydeck. Grab your sweetheart's hand and gaze down (if you dare) 1,353 feet to the street. For a great photo, stand out on the Ledge and capture others in your camera's viewfinder as they are suspended over the city.

Husband and wife John Zich and Anne Ryan are the award-winning photojournalist team behind zrWeddings. You can check out how they've used Chicago and other beautiful places as the backdrop to countless weddings here or take a look at more of their unforgettable images here.
This post is part of the 175 Ways to Love Chicago project (view more posts here), which features the perspectives of 35 unique Chicagoans. Presented by the Chicago Office of Tourism and Culture, in celebration of Chicago's upcoming 175th birthday on March 4, 2012. http://www.explorechicago.org