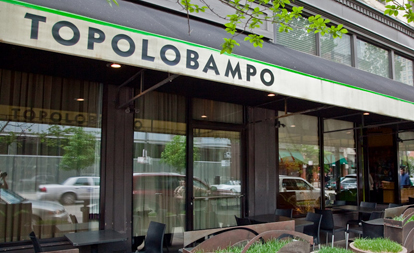 Award-winning chef-restaurateur, cookbook author and television personality Rick Bayless points us to his favorite local purveyors of fresh produce, craft brews, and other culinary delights.
Sip on Goose Island Brewpub's Craft Beers. Some of the greatest craft beers I have ever tasted are produced right here in Chicago. One of Chicago's most notable brewers is Goose Island Pub's Brewmaster, Jared Rouben. He has worked with nearly every chef of note in Chicago and constantly puts local produce into his creations. Trying his brews is a must for any locavore or beer geek.
Get Locally Raised Meat and Friendly Advice at The Butcher & Larder. If there is a better and more knowledgeable butcher than Rob Levitt in Chicago, I have yet to meet him or her. Time and time again, I step into B&L and Rob lectures me about cuts of beef I have never heard of. Everything he carries is humanely raised and local. The quality of meat that is offered here is that of a 5-star restaurant. I am honored that he set up shop in my neighborhood.
Find the Freshest Local Produce at Green City Market! There is not enough I can say about Chicago's Green City Market. Few markets throughout the country can compare. Green City has very high standards for their vendors and requires each to have a handful of certifications, ensuring that all of the products you buy there are guaranteed to be fresh, delicious, and local.
Grab a Handful of that Classic Chicago Treat, Garrett Popcorn. Everyone who works at Frontera loves Christmastime, namely because people know to send me buckets and buckets of Garrett Popcorn. Our office once went through a 5-gallon tub in under two hours! My personal favorite is the Chicago Mix, which blends cheesy and caramel flavors. This salty, savory and sweet combination is truly unique, and the fact that they are headquartered only a few blocks from Frontera means that I can always satisfy my cravings.
Find Everything You Need (and Want) at City Provisions Delicatessen. What Cleetus Friedman is doing in Chicago's Ravenswood neighborhood is ideal. His one part gift shop, one part wine shop, one part deli is a locavore's dream. All of his house-cured meats are delicious. Anytime I need a gift for a foodie, I head to City Provisions. Every time I'm there, I get a house-made pastrami sandwich and some spicy Siracha egg salad.

Chef Rick Bayless's Chicago restaurants include the casual and vibrant Frontera Grill, the elegant Topolobampo and XOCO, where you can eat flavorful dishes inspired by beloved Mexican street food and snacks. An award-winning chef-restaurateur and cookbook author, Bayless hosts Mexico – One Plate at a Time on PBS and is an expert on Mexico's regional cuisines. Chef Bayless also supports small, sustainable farms in the Chicago area through his Frontera Farmer Foundation.
This post is part of the 175 Ways to Love Chicago project (view more posts here), which features the perspectives of 35 unique Chicagoans. Presented by the Chicago Office of Tourism and Culture, in celebration of Chicago's upcoming 175th birthday on March 4, 2012. http://www.explorechicago.org
Tags: 175 Ways to Love Chicago, Foodie Fun, Neighborhood Itineraries