Fabrice Calmels with Victoria Jaiani in Edwaard Liang's Woven Dreams Photo by Herbert Migdoll. Photo courtesty of Joffrey Ballet.
Whether it's your first time to Chicago or you've never left, follow these tips from dancer Fabrice Calmels of the Joffrey Ballet as he shows us his favorite ways to move through Chicago's vast cultural landscape.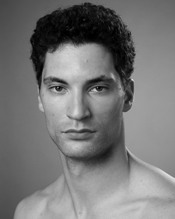 Talk to a Local and Let Your Curiosity Lead You. Try going out on your own to explore! Before setting out for the major attractions, immerse yourself in the general aura of the place. Talk to the locals to find the most "authentic" cultural activities. This is how you will truly know Chicago!
Take a Tour and Gain a New Perspective. I recommend the Chicago Grand Tour with Hancock Tower because it gave me a greater appreciation for the city I walk and live in every day. It was the perfect thing when my mother came to visit from Paris. If you want to see Chicago, this tour will show you some of its greatest sights. Top it all off with a drink on the 94th floor of the Hancock Tower while you view this great city from above.
Treasure Chicago's Parks and Festivals. Take a walk around Millennium Park to find out what makes it one of the greatest parks in the country! See one the most statuesque skylines in the world reflected in Cloud Gate. Explore Crown Fountain, the Greek columns [in the Millennium Monument] and lush gardens that transform throughout the seasons. You can see free concerts each summer during the Chicago Dancing Festival when the best dance companies in the world come to the Pritzker Pavilion stage. In fact, catch as many of the Millennium Park activities and festivals as you can! When thousands gather on its lawn, you truly feel the energy of Chicago.
Mellow Out with Great Music. I really enjoy going to the Green Mill with friends to enjoy the warm atmosphere, listen to great music and watch amazing jazz musicians jam. Make your way to the Mill for a smooth, relaxing night with passionate musicians in the perfect ambiance.
Experience the One and Only Joffrey Ballet! What can I say, I love what I do, and what I do is for each and every Chicagoan, each and every visitor to our city, and each and every person I encounter traveling on the road. When the Joffrey travels, we do our best to represent the city we live in and love. We bring that uniquely robust Chicago cultural force everywhere we travel.

Hailed as the 2009 "Dancer to Watch" by the Chicago Tribune, you can find dancer, model and choreographer Fabrice Calmels enthralling audiences each season with the Joffrey Ballet. Catch their newest performance, Winter Fire, from February 15 – 26 at the historic Auditorium Theater.
This post is part of the 175 Ways to Love Chicago project (view more posts here), which features the perspectives of 35 unique Chicagoans. Presented by the Chicago Office of Tourism and Culture, in celebration of Chicago's upcoming 175th birthday on March 4, 2012. http://www.explorechicago.org