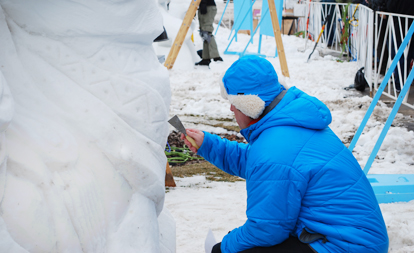 When was the last time you waddled in step with a penguin, watched a team of dogs pull a sled with ease, or witnessed an artist transforming snow into a beautiful sculpture? Put on your puffy coat and head to Navy Pier this weekend, where you can see all this (and more!) during Snow Days Chicago, January 27-29, 2012, featuring free admission and fun for the whole family!
Encounter Magellanic penguins from Shedd Aquarium and learn all about these supurb long-distance swimmers, which are native to the Straights of Magellan in South America, with the help of Shedd educators. Clever sled dog teams led by Green Valley Dog Drivers will race each other, and show you how good they are at pulling weight. You can pet them when they're taking a break, rewarding them for all of their hard work!
Also joining in the fun will be young snowboarders from the nearby Raging Buffalo Snowboard Park USA Snowboarding Association (USASA) team who will demonstrate their best snowboarding tricks and skills on a full-size rail and ramp.
After getting inspired, kids can get active, too, with interactive ice bowling, hockey, football and basketball stations, or express their creativity through colorful snow paintings.
The centerpiece of Snow Days is a snow sculpting competition featuring more than two dozen chilly creations. "We have 15 professional teams for the adults," says competition organizer Fran Volz, "and 12 teams made up of Chicago Public School high school students who applied for a spot."
Although many of the sculptors hail from the Midwest, some of the professional sculptors are traveling to Chicago from places as far away as Austria, Spain and Russia. Each team works tirelessly to transform their block of snow into a magnificent design, like a mighty polar bear, an elegant dragon, or a tribute to favorite sports teams, video games, or famous works of arts.
Prizes then will be awarded to the best sculptures by a panel of celebrity judges including Chicago Blackhawks legend Denis Savard, NBC 5's LeAnn Trotter, and Lynn Osmond, President of the Chicago Architecture Foundation. Although getting a cash prize would be a great way to cap off the weekend, Volz feels that the sculptors come out purely to "share the joy that comes from making art".

Snow Days Chicago runs from January 27-29, 2012 at Navy Pier. Hours are 11 am – 8 pm on Friday and Saturday and 11 am – 6 pm on Sunday. Admission is FREE. Check out the full schedule of demonstration times and dates so you don't miss out on any of the fun!
Tags: Family Fun, Public Art and Outdoor Sculpture, Sports and Recreation