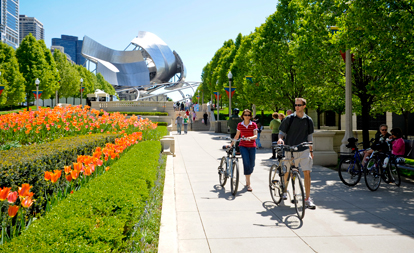 With its wide boulevards, shimmering lakefront and wooded trails, Chicago is a great place to be on a bike. Whether you're into touring or racing, hop in the saddle and follow these cycling suggestions from Chicago bicycling advocate Ron Burke of the Active Transportation Alliance.
Cycle the Lakefront. The best way to experience Chicago's Lakefront Trail is on a bike! You'll find something for everyone with world-class museums, skateboard parks, volleyball games, swimming, fishing and harbors full of boats. Whether you're exercising, riding to work or just pedaling around to see the sights, you'll enjoy breathtaking views of the city's skyline as it towers over our great inland sea.
Behold the Beauty of Chicago's Boulevards. See why Chicago's boulevards system is called the city's jeweled necklace. Gliding through sprawling parks, you'll take in the spectacular gardens, ponds, walkways and stately field houses along the way that are truly gems. When you bike the leafy boulevards, you'll also encounter ornate Victorian-era mansions. Peddling the parks is pure joy! [Editor's Note: Download a map here and try our Bike the Boulevards Trek for SCVNGR, a free game for your mobile phone.]
Kick Off Your Summer with Bike the Drive. Every Memorial Day Weekend, Cyclists take over Lake Shore Drive for this early morning ride. Enjoy unparalleled views of the city skyline and the big blue lake as you cruise along Chicago's lakeside highway with 20,000 other cyclists—and no car traffic!
Love the New Lanes! Cycling in Chicago is being transformed as the city installs 100 miles of protected bike lanes over the next several years, making the streets safer for everyone! Ride in protected bike lanes now on Kinzie Street, Jackson Boulevard and 18th Street, to name a few. Get involved with this exciting project here.
Try Out the Trails. In addition to the lakefront path, Chicago claims a growing list of primo, off-street trails. Ride the Major Taylor Trail on the Far South Side and the Sauganash Trail through Far North Side neighborhoods. Explore a real South Side gem by biking the Burnham Greenway, with trails from Calumet Park to the gleaming waters of Wolf Lake.

As Executive Director of the Active Transportation Alliance, Ron Burke advocates for safe, healthy transportation whether it's on wheels, rails or foot. To get the most out of cycling in the city, check out these Chicago bike maps and the trails at Chicago's many parks.
This post is part of the 175 Ways to Love Chicago project (view more posts here), which features the perspectives of 35 unique Chicagoans. Presented by the Chicago Office of Tourism and Culture, in celebration of Chicago's upcoming 175th birthday on March 4, 2012. http://www.explorechicago.org