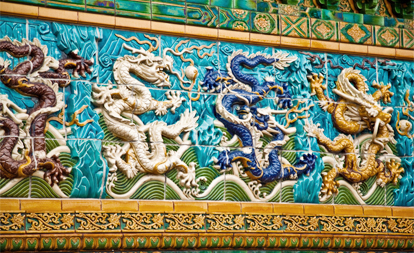 Chinatown's Nine Dragon Wall (Above) Greets Visitors to the Neighborhood
Celebrate Chinese New Year at not one, but two free public celebrations, Saturday and Sunday, January 28-29! Colorful paper dragons flap their mouths and curly eyelashes as they parade through Chinatown and Uptown. Join in the celebration, then feast to your heart's (or stomach's) delight on dishes like peking duck, dumplings, greens, and other foods chosen for their "lucky" symbolism.
Chinatown
Enjoy a feast for the eyes and soul in Chinatown. This Lunar New Year celebration on Sunday, January 29, will not only celebrate the beginning of the Year of the Dragon 4710, but will also celebrate Chicago's Chinatown Centennial (1912-2012). Located just south of the Loop, Chinatown will host a magnificent parade featuring marching bands, colorful floats, lion dance teams, and a 100-foot long dragon made from silk, paper, and bamboo. Before or after the parade, which kicks off at 1pm, head to one of the neighborhood's many enticing restaurants.
Choose Your Own Culinary Adventure. Chinatown resident and local blogger MJ Tam has a great round-up of the Chinatown's dim sum options. Chef Tony Hu's restuarants–Lao Sze Chaun, Lao Beijing, Lao Sanghai, Lao You Ju, and Lao Hunan–showcase China's different regional cuisines (Serious Eats, a food blog, recommends their favorite dishes at each of Chef Tony's outposts). House of Fortune (2407 S Wentworth Ave) is one of many hidden neighborhood gems, where you can ask the chef to surprise you with a selection of dishes he thinks are best that day. For small plates in a hip environment, try Saint Alp's Tea House, the only Chicago outpost of the popular Asian chain.
Satisfy Your Sweet Tooth. Any number of Chinatown bakeries can satisfy your sweet tooth, if you want to eat on-the-go. Chinese bakeries serve both savory and sweet items like pork buns and egg custards and favorite spots include the Chiu Quon Bakery and nearby Wan Shi Da Bakery & Café. Festivities in Chinatown start at 11am on the 29th, with the parade kick-off at 1pm.
Discover Neighborhood Attractions. Round out your day with a trip to Chinatown Square, where you can pause to take your photo with a statue of the zodiac animal for your birth year, before shopping for unique gifts, candy, specialty food items and more. Explore Chicago's Chinatown Trek for SCVNGR will guide you to other this and other neighborhood attractions, like the ornately decorated Pui Tak Center, and the hidden Enlightenment Temple (after clicking on the link above, select the "Statistics" tab to view a full list of stops). A check-in on Foursquare at picturesque Ping Tom Memorial Park will also set you on your way to earn your Windy City Badge.
Argyle Street in Uptown
Uptown Celebrate the Year of the Dragon with Pan-Asian Delights. Clustered around the CTA Red Line's Argyle Street 'L' station in Chicago's Uptown neighborhood, is a succession of Vietnamese, Chinese and Thai eateries, bakeries, specialty grocery stores and more. The Argyle Street Chinese New Year Parade takes place this year on Saturday, January 28, 2012 at 1pm, and features much of the same pageantry of Chinatown's celebration, but with smaller crowds.
Feast on Peking Duck, Crunch on Bánh mì, or Slurp Steaming Bowls of Pho. The row of restaurants that line Argyle will likely be brimming with patrons, before and after the celebration, but a patient, adventurous attitude will go a long way during the celebrations. Try the Uptown outpost of Furama Restaurant for varieties of dim sum, Tank Noodle for steaming bowls of Vietnamese Pho soup, Ba Le for Bánh mì, spicy sandwiches served on crisp baguettes, Sun Wah BBQ for special Peking duck (reservations and pre-ordering recommended if you'd a duck), or La Patisserie P for sweet treats by award-winning pastry chef Peter Yuen. For even more dining suggestions, click here.
Chinese New Year is a festival for the spirit as well as the body, and (no matter what the weather) you'll be hard-pressed to find a more warm-hearted crowd, than in Chicago this weekend.
Tags: Cultural Heritage, Foodie Fun, Holiday Events, SCVNGR and Foursquare Badges