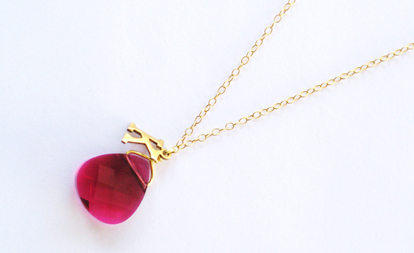 The Monroe personalized initial necklace, Photo courtesy of k-amato.com .
Chicago's jewelry designers have something that will wow your Valentine's Day date, whether you're on a budget or looking to splurge. We've picked some of our favorite designs, which you can shop online, or pick up at a local boutique.
Budget Jewelry Options
K. Amato
Chicago native Kristen Amato designs jewelry for women under the brand K.Amato. Her designs range from the striking to the simply elegant. Whether you want something that will steal the scene or cap off a classic outfit, her pieces are sure to delight. Always affordable, her designs have been featured in many publications including Vogue, Chicago Magazine, People, and Lucky. Shop online, or pick out a gift in person at Mint Julep on Southport in Lakeview, at Macy's on State Street in the Loop, at Sheffner's Fine Jewelry in the South Loop, or at numerous other locations.
Objets d'Envy
Bouton earring from Objets d'Envy, Photo courtesy objetsdenvy.com
Graphic designer turned jewelry maker Kirsten Goede creates beautiful sparkling adornments under the name Objets d'Envy. Each piece is handcrafted in Chicago and is sure to make anyone's eyes sparkle. Whimsical and sometimes daring, there's many an occasion that could benefit from a little bit of Swarovski crystal. This charming Bouton earring is customizable (just select the color) and, at $38, it's an affordable luxury. Shop online, or see some of her designs at stores around town and the country, including The Modern Wing Shop at The Art Institute of Chicago in the Loop or at these other stores.
Erin Gallagher
Sometimes a customized piece of jewelry is the way to go for a truly unique gift. Shop Erin Gallagher for a customized charm necklace tailored to your sweetheart's tastes. Using an online customizer, add birthstones, initials, or zodiac signs to a silver or gold pendant, starting at just $30. Nearly everything Erin designs is customizable. Order online, visit Erin Gallagher's Gembar in Lincoln Park, or at Smitten Boutique in the West Loop.
Go All Out for Love
jules.
Customized ID necklace from jules., Photo courtesy shopjules.com
Who says diamonds have to be the star of a fine piece of jewelry? Handcrafted metal works just fine for Wicker Park-based artist Julie Schwanbeck whose line of jewelry is called jules. Her hand-forged ID tags have been the "it" item for celebrities, but you can get your hands on one without having to travel all the way to Hollywood. Customize these tags with initials, dates, or just about anything you'd like to say. Shop online, or see Julie's work in person at boutiques like Sarca in the Gold Coast and Mulberry & Me in West Town and other locations.
By Erin Gordon
Gemstone bracelet by erin gordon, Photo courtesy byeringordon.com
When something with a little sparkle is what you want, try the Luxe Gemstone Bracelets by Chicago designer Erin Gordon. These semi-precious gemstone bracelets come with a gold, silver or gun metal-colored crystal ball and can be customized. Erin even offers some gemstone bracelets for that special guy in your life.  Featured on saavy fashion websites like Refinery29, Popsugar, as well as in the Chicago Sun-Times, these bracelets are a great gift for Valentine's Day (or any day you want to spread the love). Shop Erin's creations on her website.
Dana Rebecca Designs
"Melissa Louise" ring from Dana Rebecca Designs, Photo courtesy danarebeccadesigns.com
Wow her with a special ring (or wow him with some elegant cufflinks) by third-generation Chicago designer Dana Levy of Dana Rebecca Designs. The ruby-encrusted ring called the "Melissa Louise" is just the thing for a very heartfelt gift in February. These rose-colored stones will melt her heart. Celebrities sing her praises, and wear Dana Rebecca Designs proudly.
Lana Jewelry
Rock Bangle from Lana Jewelry , Photo courtesy lanajewelry.com
If you want the latest thing, grab an inspired piece of jewelry from Lana Bramlette of Lana Jewelry. Whether your special lady has a little bit rock'n'roll in her heart, or she's all about simple elegance, one of these pieces is sure to please. Try out the Rock Bangle and see how she likes three types of 14-Karat gold on her wrist. Fans of Lana's work include Katy Perry, Cameron Diaz, Rihanna, and even J. Lo. Find her pieces online or at major retailers like Neiman Marcus, Nordstrom, boutiques like Intermix in Gold Coast and Krista K on Southport in Lakeview.