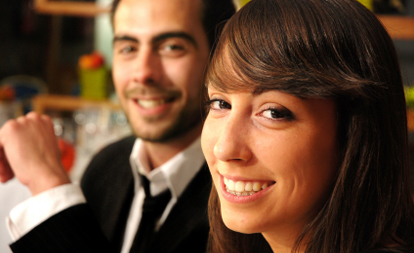 It's hard to believe, but that day of romance and red paper hearts is only a few weeks away! Our dining guide will help you (or your loved one) plan a fantastic night out for Valentine's Day.  
Wine and Dine (and Wine Some More). Sample award-winning wines at The Tasting Room in the West Loop, where you can dive in and explore some of your favorite varietals, or ask their friendly wine experts for advice and recommendations. All the wines are available by the glass, and some are also offered in small tasting portions and wine flights on themes. The restaurant offers an array of small plates, along with artisanal cheeses, charcuterie, and fondue. Whether you want to pair your wine with dinner, or your dinner with your wine selection, The Tasting Room is a great spot for a romantic dinner out. To make reservations, call 312-942-1313.
Live La Vie En Rose! The French know romance, and Bistro Campagne in Lincoln Square knows French cuisine. Their warm, prairie-inspired decor is sure to inspire you as you enjoy a relaxed, romantic dinner of traditional French bistro cuisine such as Bœuf Bourguignon. (Or skip straight to dessert). Bistro Campagne's menu has great vegetarian options, from Socca Provençale, a savory crepe that will transport you to the French Riviera, to macaroni with Gruyère & Emmental cheeses. To make reservations, call 773-271-6100 or reserve online through Open Table.
Get In On The Secret. Spice things up with Southern and Creole-inspired cuisine at Big Jones in Andersonville. Invite your sweetie to try sweet-tea brined pork loin, a platter of Hunter & Ploughman (house-made sausages), Delicata Squash Love Letters (pasta pillows filled with squash and fromage blanc), or Savannah-style Deviled Crab. While you're there, you can also request to become a member of a (not-so) secret club. The Big Jones Bourbon Society includes a passport to sample all 46 of the house whiskeys. So your night out on Valentine's Day could be the start of a whole other encounter with new and old favorite distillations. To make reservations, call 773-275-5725 reserve online through Open Table.
Explore Rustic Cuisine in Printer's Row. Many restaurants offer set menus on Valentine's Day, which means you often end up with courses you're not crazy about. This year, Custom House Tavern invites diners to create their own custom-made tasting menu. For $55, guests can choose their own four-course meal from the restaurant's offerings of delicious, hearty, and heart-warming food, such as Roasted Carrot Risotto, Grilled Pork Loin Chop and Tavern Steak, as well as sweet treats like Chocolate Hazelnut Crunch Cake and Black Mission Fig Gratin. (Yum!) This special tasting menu is available from Saturday, February 11 through Tuesday, February 14: perfect if you'd like a little flexibility in making your plans. Their regular menu is always available and includes braised short ribs, roasted chicken, and their very popular Custom House Burger. To make reservations, call 312-523-0200.
Say Hello With Fabulous Cocktails. It's not about just shots and salt at Salud Tequila Lounge in Wicker Park. In this fun and festive space, perfect for a casual date, you can enjoy a plate of tacos, or share a three-course dinner for two along with an array of drinks from their pages of offerings. Explore their tequila concoctions, along with drinks made with rum and Cachaça (a Brazilian liquor made from fermented sugarcane juice). Make reservations online via Open Table.
Celebrate Amore at The Florentine. Located in Chicago's downtown Loop neighborhood, The Florentine will be serving Valentine's Day diners a menu of specials with aphrodisiac properties including chilled kumomoto oysters on the half shell, tagliatelle pasta with black truffles, classic surf and turf, and more. This special menu will be offered Saturday, February 11 through Tuesday, February 14. Call 312-660-8866 or visit the restaurant's website to make a reservation.
Get Cozy at an Unexpected Gem. A Michelin Bib Gourmand pick tucked surprisingly into an unassuming shopping center in Chicago's Hyde Park neighborhood, La Petite Folie offers classical French fare with an exclusively French wine list that will impress aficionados and your date. To make reservations, call 773-493-1394.

Tags: Foodie Fun, Holiday Events, Valentine's Day