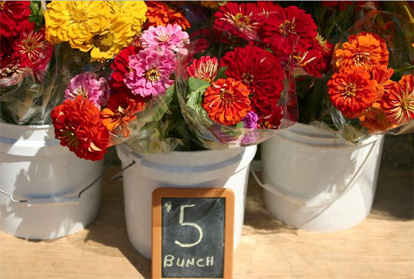 Kapra Fleming, artist, poet, and proprietress of the House of Two Urns Bed and Breakfast (1239 N. Greenview Avenue) gave us her guide to Wicker Park, where the free admission Do Division Street Fest and Sidewalk Sale is going on this weekend, June 4-5.
"Of course, the restaurants that line Division Street could provide you with a week's worth of meals. Here are our favorites meals, that you can eat, which are within walking distance of the Bed & Breakfast" (To see these restaurants on a map, click here.):
Try the Bento Box special at Usagi Ya Japanese restaurant at Milwaukee and Division; about $10-12 at lunch time;
I love the Cabbage Soup at Podhalanka; It's only $3.50 and comes with a side of rye bread: the perfect lunch for under $5;
The Thai Village lunch special is $5.95 from 11am-4pm daily and offers a small soup, appetizer, and entree from a list of lunch specials;
You can't beat the ribs at Smoke Daddy's BarBeQue, with those delicious sweet potato fries.
Our vote for the best gelato in Italy (whoops!, we mean Chicago) is at Caffee Gelato;
Try the polenta at Enoteca Roma or any of their daily specials;
The empanadas at Folklore are a must-eat;
For pub grub, head to Bangers and Lace for beer and brats;
The mushroom burgers are great at Mana Food Bar;
Crust is a must for everything 100% organic.
Do-Division is great for shopping, food, and concerts; the Renegade Craft Fair, on September 10-11, offers a host of handmade goods, happens in mid September.
But you can also go kayaking in the neighborhood, too. Kayak Chicago is near us, in an industrial zone, by the river, across from the Wrigley R&D building. They offer archiectural tours that you can do on the river via kayak.
Near there is the Hideout Bar, which offers a mix of bands during the Hideout Block Party, a big festival that they have every summer.
There are going to be farmer markets this summer at the Polish Triangle (located at Division, Ashland and Milwaukee Avenue, what was once considered the heart of Polish Chicago), as well as a farmer's market in Wicker Park itself.
See an art exhibit at Corbett v. Dempsey on Ashland, just south of the Polish triangle.
For theater, head to the Chopin Theater building, where they have a magic show at 10:30pm on Saturday nights.
For people-watching, you can't beat the popular coffee shop Filter, just up the street from the Polish Triangle, on Milwaukee Avenue.
Davenport's Cabaret is great for a little nightlife, and live vocalists.
First Friday Art Openings give you the chance to see a lot of art in one space, at the Flat Iron building at Milwaukee, Damen, and North Avenue.

For more information on Wicker Park and West Town, check out our printable map and guide, and our interactive Google map, here. For more information on Do-Division, happening June 4-5, click here. For more information on the House of Two Urns Bed & Breakfast, click here.
Related Posts
5 Places to Shop…If You're Headed to Do Division in Wicker Park this Weekend
Tags: Freebies, Great Itineraries for First Time Visitors, Music in Chicago, Sports and Recreation, Summer Nightlife, Ukrainian Village, Visual Art, Wicker Park