Last week, Explore Chicago hosted a one-of-a-kind social media excursion during Social Media Week: an exclusive bus tour inspired by Explore Chicago's Foursquare badges! Led by Tim Samuelson, the city's Cultural Historian, we visited nearly 15 eligible Foursquare check-in locations throughout the city – more than enough to earn both Explore Chicago's On Location and Chicago Blues badges!
With a WGN cameraman in tow,  the tour kicked off at the Chicago Cultural Center, the site of the first On Location Foursquare check-in from the movie The Untouchables.
To watch clips of the movie scenes featured on the tour, visit http://bit.ly/TimTour.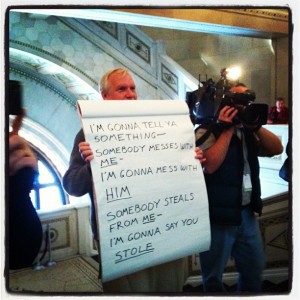 Tim facilitating a re-enactment of a scene from The Untouchables in Preston Bradley Hall, Chicago Cultural Center (pictured left).
Looking for a new challenge? Check out our fourth badge: the Windy City Badge on Foursquare and discover even more unique treasures throughout the
city!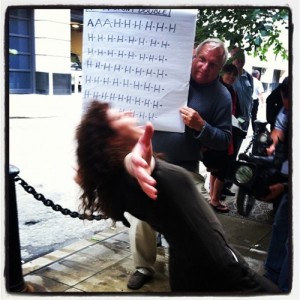 We headed outside through the alley behind the Cultural Center, where a chalk outline had been drawn in reference to another scene from The Untouchables.
A participant gives a dramatic performance re-creating a memorable scene from The Untouchables  (pictured right).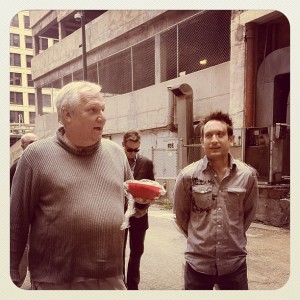 Before boarding the bus, Tim handed out snappers for sound effect to act out a Transformers 3 fight scene, and got WGN reporter Marcus LeShock in on the action (pictured right).
Get an inside look into our adventure by watching WGN's video segment!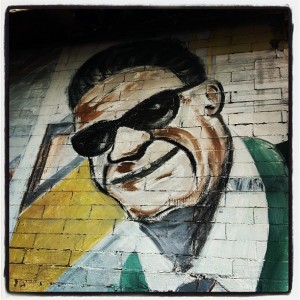 Along the way we payed homage to Ferris Bueller's Day Off with a sing-along to "Twist and Shout", "checked in" to a plethora of historical Chicago blues locations, and danced to "Shake a Tail Feather" at the site of the Blues Brothers Mural/Ray's Music Exchange (pictured left) from the Blues Brothers movie.
The porkpie and sunglasses complete the Blues Brothers ensemble in front of fictional Ray's Music Exchange (pictured left).
Foursquare Tip: The Blues Brothers Mural/Ray's Music Exchange is a check-in location for the On Location AND Chicago Blues badges! Check in here and it counts towards earning both!
Our last stop after passing through the Historic Maxwell Street Market (Hint: another double check-in for On Location and Chicago Blues badges!) was lunch at two warring hot dog stands on Maxwell Street: Jim's Original and Express Grill.
Regardless of which hot dog stand won, these two delicious check-in locations got us started towards earning Explore Chicago's Celery Salt Badge!
The bus tour was full of surprises as we tracked our locations around the city. Special thanks to our fearless leader Tim, a wealth of knowledge, insight, and an all-around amazing guide during this unique social media experience.
Are you on a quest to earn Explore Chicago badges? Follow us on Twitter or "Like" us on Facebook and share your social media adventures with us – we'd love to hear from you!
For a recap of Explore Chicago's Social Media Week in photos, visit our Instagrid page!

Did you miss Tim's tour? You can still experience Chicago on your own as you earn Explore Chicago's SCVNGR badges and Foursquare Badges, sending you on quests to re-shoot famous album covers, re-create scenes from iconic movies, eat your way across Chicago's neighborhoods and more!
Follow Explore Chicago on Flickr, Tumblr, or on the Instagram iPhone app to share your experiences through photos. For more information on our social media partnerships, visit www.explorechicago.org/games.
Tags: Chicago Blues, Films Made in Chicago, Guided Tour, Neighborhood Trek, SCVNGR and Foursquare Badges