Last week, the Explore Chicago team put social media into action during Social Media Week with Greeter-guided photo walks to four iconic Chicago neighborhoods: Chinatown, Bronzeville, Old Town and the Loop. Follow our adventures in the photo recap below and get tips on how you can discover these neighborhoods in a whole new way using social media!
Did you miss our photo walks? You can still experience Chicago on self-guided tours as you earn one of eight SCVNGR badges or four Foursquare Badges that will send you on a quest to recreate scenes from The Dark Knight, complete challenges inspired by Chicago music, eat your way across Chicago's neighborhoods and more!
Chinatown: While exploring unique shops along Wentworth Avenue, we caught a photo-worthy glimpse of a live seafood delivery (pictured left). We ended up at the picturesque Ping Tom Park, where a Mayor's press conference was wrapping up. In true Chicagoan fashion, we hitched a ride on the Chicago Water Taxi back to the Loop, taking in views of the skyline.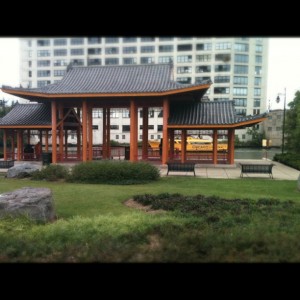 Ping Tom Park (pictured left), a featured check-in location for both Explore Chicago's Windy City Badge on Foursquare and the Explore Chinatown Trek for SCVNGR. Discover new treasures in this neighborhood by following Explore Chicago!
Old Town: Taking in Old Town's historical significance, we saw ornate neighborhood architecture and residential exteriors (pictured right), St. Mikes church, and the Midwest Buddhist Temple.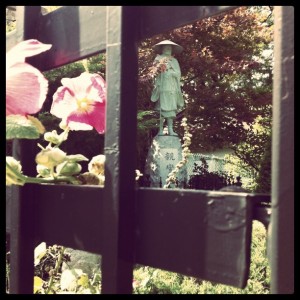 Midwest Buddhist Temple in the Old Town Triangle.
Bronzeville: One of the more memorable stops was the Meyers Ace Hardware on 35th and Calumet (pictured left), formerly the Sunset Cafe, where jazz greats such as Louis Armstrong once played.
Want to discover more music history? Follow Explore Chicago to start earning your Chicago Blues Badge - check out our list of Blues History locations on Foursquare!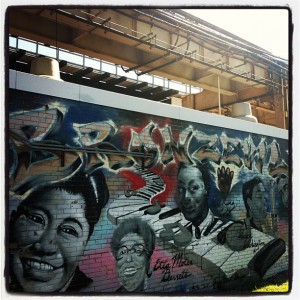 A detailed mural at the Bronzeville 35th Street CTA station.
Loop: We saw noteworthy architecture all over the Loop. Heading to the 5th Floor of Macy's on State Street, we admired the Tiffany Favrile glass ceiling (pictured right), installed in 1907, and containing over 1.6 million pieces of glass.
An art deco detail at the Chicago Board of Trade.
Like what you see? Visit Explore Chicago on Foursquare for a detailed list of 10 Art & Architecture highlights to explore in the Loop!
Want to share your stories about Chicago? Follow Explore Chicago on Twitter or "Like" us on Facebook and share your social media adventures with us – we'd love to hear from you!

Follow us on Flickr, Tumblr, or on the Instagram iPhone app to share your experiences through photos. For more information on our social media partnerships, visit www.explorechicago.org/games.