It's Chicago Artist Month in October! All month long you can connect with visual artists all over the city with free exhibitions, open studios, art walks and more. Here's a guide to weekend arts events happening in Ravenswood, September 30 – October 2:
1. Kick it Off (September 30, 7-11pm)
The Chicago Artists Month kick-off celebration happens on Friday evening at The Industrial Ballroom. Check out this beautiful loft space, sample the fare from local restaurants and meet many of the 150 artists who will showcase their work in the Ravenswood Corridor throughout the weekend.
At The Industrial Ballroom, Ravenswood Event Center, 4011 N. Ravenswood Ave.
2. Walk it Out (October 1 – 2 starting at 11am)
Drop in at galleries all over the area when the Ravenswood Art Walk (RAW) www.ravenswoodartwalk.org celebrates its 10th anniversary October 1-2. Chicago's biggest and longest-running Art Walk includes open galleries, studio tours, and more! Admission is free, but donations to support the Ravenswood Art Walk are gladly accepted. While you're there, hit the Ravenswood Street Fair, on Ravenswood between Montrose and Sunnyside.
Start at RAW Central Gallery, 4021 N. Ravenswood Ave.
October 1, 11am – 7pm; October 2, 11am- 6pm.
3. Make a connection (October 1 and 2)
On Saturday, meet members of The Wilson Artists Group www.wilsonartistsgroup.blogspot.com as they display their exhibition Painting Together: How We Grow as Artists, exploring this year's Chicago Artists Month Theme, Artful Networks.
At Ann Ponce Studio, 1819 W. Wilson Ave.
The Belle Plaine Studios http://www.proppjonesstudio.com in Ravenswood is home to four Chicago artists who will open their space during the weekend. Hear about their processes and what inspires them in an Artists Talk on Sunday at 3pm.
At Belle Plaine Studios, 4541 N.Ravenswood Ave., #402
4. Explore Lillstreet (October 1, noon-5pm)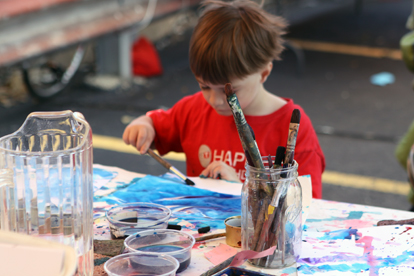 Lillstreet Art Center, www.lillstreet.com one of Chicago's best known art centers, will open its studios Saturday afternoon. View the artworks and find out about the wide variety of classes for children and adults. While you're at this terrific space, climb the stairs to the new rooftop garden!
At Lillstreet Art Center, 4401 N. Ravenswood Ave.

Throughout October, Chicago Artists Month showcases the extraordinary talent and vibrancy of Chicago's art community. Chicago Artists Month is presented by the Chicago Department of Cultural Affairs and Special Events and the Chicago Office of Tourism and Culture in collaboration with more than 200 program partners. Find out more at www.ChicagoArtistsMonth.org
Tags: Visual Art