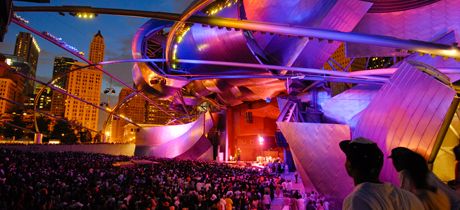 From a free World Music Festival concert in Millennium Park to Social Media Week tours and events here are Wednesday's freebies and must-sees! For even more Chicago fun, visit www.explorechicago.org!
Take Free Daily Tours of Chicago and Earn a New Foursquare Badge During Social Media Week #smw11
We know that social media and mobile phones have changed the way that you travel and explore the city. So join us this week for a series of free, guided tours that put social media in action! On Wednesday we head to Chicago's Bronzeville neighborhood for a free photo walk. Find more details here. You can also follow our photo walk online through Twitter, Tumblr, or Instagram.
Eat a frisbee-sized donut and discover a mummy at an always free museum: visit five attractions in diverse Chicago neighborhoods and earn our new Windy City badge for Foursquare! We've put together a handy Foursquare list to let you know where to go.
Fun for Foodies at Chicago's Downtown Farmstand
Free with an RSVP:  Chicago is home to a number of small-batch and artisanal food producers who are passionate not only about their creations, but also about giving back to the community. Chicago's Downtown Farmstand (66 E. Randolph St.) is celebrating its three year anniversary with a free talk with four such food and cookbook producers, 6pm.
Only Two Days Left! World Music Festival Continues
See 50+ musicians at 20+ venues during World Music Festival 2011,September 15-22, seven jam-packed days of performances and events in parks, clubs, cultural centers and other venues throughout the city!
On Wednesday, September 21 head to the Chicago Cultural Center's Claudia Cassidy Theater for a live radio broadcast of Continental Drift featuring Te Vaka (Australia / New Zealand), Movits (Sweden) and Boubacar Traoré Trio (Mali). Or tune into WNUR 89.3 on the radio or online to listen! Free, no tickets required.
Also on Wednesday, enjoy a free DJ set by DJ Sound Culture at Hostelling International, 5:30pm, and a free concert in Millennium Park featuring Boubacar Traoré Trio (Mali) and Nawal (France/Comoros)
The festival culminates in a "One World Under One Roof" grand finale on September 22, featuring multiple concerts held throughout the Chicago Cultural Center from 6:30 to 11:30 p.m.
Go visit a museum today!
Peace, Love and Soul: Hop on Soul Train, The Hippest Train in America!
Check out 55 rare photographs of some of the biggest names in music including Chaka Khan, Stevie Wonder, Sly Stone, and Chuck Berry at the Soul Train Photo Exhibition (open daily, free admission).  Extended through October 2, this exhibition celebrates the 40th Anniversary of the Chicago-based dance show, which was the longest-running, nationally syndicated program in television history!
Free Movie Screenings and Movie-Themed Treks!
Cinema/Chicago, the presenting organization behind the annual Chicago International Film Festival presents a free screening of a Chinese film, Honeymoon. Liu Yan expects her life to be perfect now that she has married the man of her dreams. But domestic bliss doesn't come easy. This remarkable family drama unfolds along the banks of the Yellow River, as the mother and child find mutual love and understanding in China's heartland. , Chicago Cultural Center, 6:30pm.
Check our awesome new Superman (2013) and Transformers 3 movie experience for Foursquare, a free game for your mobile phone.
Or choose from five other fun movie experiences: re-create your own Ferris Bueller's Day Off; discover where Harry Met Sally (in Chicago, not New York!); visit the place where Sandra Bullock's characters fell in love in While You Were Sleeping and The Lake House; or follow in the footsteps of The Dark Knight, Rob from High Fidelity, or The Blues Brothers while visiting iconic Chicago filming locations!
Experience Classical Music Today and Tomorrow!
Enjoy classical music under the world's largest Tiffany stained-glass dome! This week's Dame Myra Hess Concert at the Chicago Cultural Center features pianist Anna Shelest, Chicago Cultural Center,  12:15 p.m.
Tomorrow: Get ready for a FREE Chicago Symphony Orchestra Concert! On September 22, 7:30pm, Riccardo Muti and Chicago Symphony Orchestra will kick off their 2011-12 season with a free community concert at the Apostolic Church of God on Chicago's South Side.  The program includes Tchaikovsky's Fifth Symphony and Jacques Ibert's Flute Concerto featuring CSO Principal Flutist Mathieu Dufour.
Learn Something New at the Harold Washington Library!
Tags: Freebies