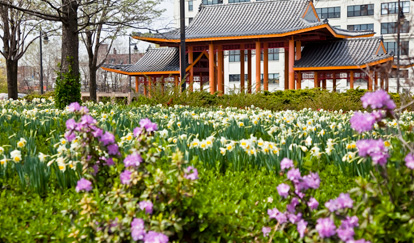 Explore Chicago knows how much mobile phones and social media sites have changed the way that you travel, whether you're getting a recommendation from friends on where to eat, sharing your vacation photos, or checking-in at one of Chicago's 77 unique neighborhoods, 552 parks, or 7,300+ restaurants.
So we're putting social media into action during Social Media Week, September 19-23 when we'll be offering daily FREE tours of Chicago to our lucky fans and followers!
Earn Foursquare Badges on a bus tour with cultural historian Tim Samuelson, Thursday, 9/22, that takes you to movie locations from Transformers 3, The Blues Brothers Movie, and The Untouchables, find a hidden mural in a Bronzeville hardware store that has ties to Chicago blues and jazz history, and eat at one of two warring hot dog stands on Maxwell Street!
Or join us on one of FIVE guided photo walks of Lincoln Park (Sunday 9/18), Chinatown (Monday 9/19), Old Town (Tuesday 9/20), Bronzeville (Wednesday 9/21), or The Loop (Friday 9/23), where you'll seek out Chicago's hidden gems. Then share your photos in our Explore Chicago Flickr Group and your favorite social media sites!
Registration for these free tours begins on September 6th*. Create a free Social Media Week account today and save our tours so that you can snag a spot while they last! (*Because we love social media so much you can register for our BONUS pre-Social Media Week Lincoln Park Photo Walk starting TODAY!)
If registration fills up, don't worry! You can still Explore Chicago on self-guided tours as you earn one of eight SCVNGR badges or three Foursquare Badgesthat will send you on a quest to recreate your own Ferris Bueller's Day Off, do challenges inspired by Chicago rock and hip hop music, eat your way across Chicago's neighborhoods and so much more!
Become a fan of Explore Chicago on Twitter and Facebook for special Social Media Week posts and to share your Social Media Week adventures!
Tags: Flickr, Foursquare, Photography Tours, SCVNGR and Foursquare Badges