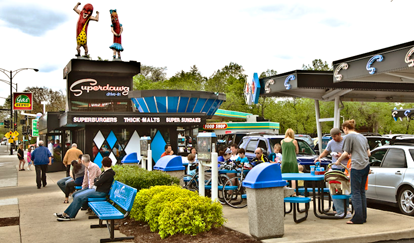 From super hot dogs to historic homes and a public mural by an internationally renowned painter, there's so much to do in Norwood Park!
Get a superlunch at Superdawg: Does it serve the city's best hot dog? Let's just say it likely would be a nominee. For sure, no other restaurant in Chicago — and it's been in business here since 1948 — sports two curiously dressed, 12-foot winking weenies on its roof (named Maurie and Flaurie after the owners), provides car-hop service and offers, among other items, something called a Whoopskidawg.
Tour one of Chicago's oldest homes: The Noble-Seymour-Crippen House dates to 1833. It was a farm house, built atop a ridge by Mark and Margaret Noble. Not much farming is done in town these days, and the merry chirping of the birds gets some competition from the hum of the nearby Kennedy Expressway (Interstate Highway 190) — but the ridge is still in place, and the house (expanded in 1868 and much-restored since) looks terrific. It's now a modest but sweet little museum, a community center and home of the Norwood Park Historical Society. The interior of the house is open to visitors on Saturday afternoons or by appointment.
Step off of the grid: Formerly a Northwest Side suburb, Norwood Park was annexed into Chicago in 1893. This quaint, mostly residential neighborhood is characterized by elegant single family homes, plenty of parks and greenery, and spacious streets that follow a curving pattern, unlike that of Chicago's grid system. Read our neighborhood essay here for a walking tour of the neighborhood's historic homes, which are listed on the National Register of Historic Places.
Take a cool dip in an outdoor pool: The Norwood Park Outdoor Pool (5801 N. Natoma Ave.) is a great place to cool off in the steamy summer months. Visit, and choose to lounge, splash down the park's water slide, or dog paddle around as you enjoy Chicago's sunny summer days.
Catch the train, see some art: Internationally renowned painter Alex Katz painted a mural, completed in 1984 and installed at the Harlem Blue Line 'L' Station, which depicts figures in a crowd, and celebrates the diversity of Chicago.

For more information on neighborhood, including detailed attractions, shopping, and dining listings, check out our printable neighborhood guide and interactive Google map. For even more self-guided neighborhood treks, click here.