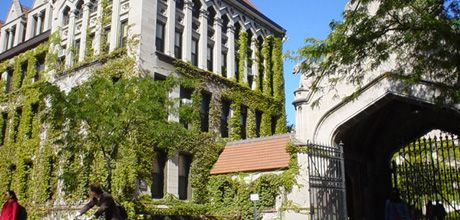 From numerous free museums and spectacular skyline views, to a Frank Lloyd-Wright home and live blues, there's so much to do in Hyde Park!
Stroll through campus and learn a thing or two: One of the most bustling areas of Hyde Park is the campus area at the University of Chicago and it includes a wealth of locations to explore (that won't cost you a semester's tuition). Visit the Chicago Jazz Archives and Special Collections Research Center at the University of Chicago library (1100 E. 57th St.) for hands-on insights into jazz and music theory. At the Reynolds Club/ Mandel Hall (5706 S. University Ave.; 1131 E. 57th St.) which also contains a small café, you can see historic works of art (usually flanking students hard at work studying).
Experience a bonanza of museums!: The Renaissance Society at the University of Chicago (5811 S. Ellis Ave.) has one of the most important contemporary art museums in the United States including works by Jeff Koons, Kara Walker, and Kerry James Marshall. The Society, along with the Smart Museum of Art, and the Oriental Institute Museum (all located on campus of the University of Chicago) are three of Chicago's many always free attractions. If you just can't get enough museums, the Museum of Science and Industry, DuSable Museum of African American History , and the the free admission Hyde Park Art Center are located close to campus.
Tour a Frank Lloyd Wright home: One of the most iconic of American architect Frank Lloyd Wright's houses is located in Hyde Park, just steps from the University of Chicago campus. The Robie House (5757 S. Woodlawn Ave.) is considered an architectural masterpiece. This quintessential Prairie house features sweeping horizontal planes, dramatic cantilevers, and long ribbons of glass windows.
Check out the Checkerboard: At the New Checkerboard Lounge for Blues n' Jazz, you can experience a wealth of music history in just one night. This new location (moved from nearby Bronzeville in 2003) at 5201 S. Harper Court hosts a large performance space for music every night of the week with extremely reasonable admission fees ranging from $3-$20
Fill your plate: At Valois (1518 E. 53rd St.) you'll be hard pressed not to fill up a tray of food. This cafeteria-style restaurant is a Hyde Park favorite and offers everything from Southern-style favorites like fried chicken, to bowls of steaming soup, and any item you'd want for breakfast (offered until 4pm each day).
See the sights from the point: At Hyde Park's Promontory Point, you can view all the colors of the waters of Lake Michigan as well as the lights and sights of Chicago's downtown skyline. Alongside a small chapel (often booked for weddings and other celebrations), you likely won't be alone on the Point, but instead surrounded by families and couples taking in the breathtaking views and breezes. (Hint: One of the challenges from our Explore Chicago Music Trek for SCVNGR, a free game for your mobile phone, is also located here).
Take a free, guided neighborhood tour: Head to the Hyde Park Art Center every Saturday through October 8 for a free, one-hour InstaGreeter visit with a friendly, knowledgeable Greeter. Chicago Greeters will provide "insider orientations" to the Hyde Park neighborhood through these informal walking tours, which are limited to groups of six or less. Visits are given on a first-come, first-served basis and no reservations are needed.

For more information on neighborhood, including detailed attractions, shopping, and dining listings, check out our printable neighborhood guide and interactive Google map. For even more self-guided neighborhood treks, click here.
Related Posts
5 Things to Do…at the Museum of Science and Industry
A Hyde Park Afternoon: 7 Picks From the Oriental Institute
Tags: Freebies, Hyde Park, Music in Chicago, Visual Art