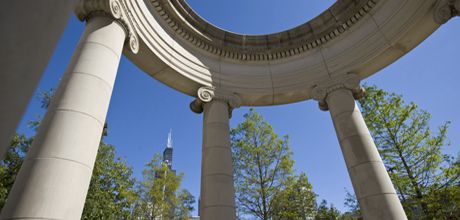 From authentic Greek food to a journey through the history of Chicago's Greek community, there's so much to do in Greektown!
- Savor a taste of Greece: Start your Greektown adventure with a delicious cup of coffee or tea at Artopolis (306 S. Halsted St.). This bustling café/bakery/shop has three kitchens to keep food flying out and customers happy.  Try their continental-style breakfast or one of a wide variety of sandwiches, including their signature "artopitas," which take sandwich ingredients and bake them into rich, flaky dough. They also have imported items like flavored waters and beverages from Greece and other parts of Europe. If you're there later in the day, try a nice glass of wine to start off your evening.
- See the light: At the Athenian Candle Company (300 S. Halsted St.) you can grab a few beautiful candles to brighten up your home, and so much more! They have a variety of worship supplies and spiritual magical items including herbs, oils, soaps, mojo bags, Buddha statues, door mezuzahs, "evil eye" stones, tarot cards, books and icons.
- Experience Greek history and culture:  Greektown is home to the National Hellenic Museum (801 W. Adams St., 4th fl.), which is open Tuesday through Saturday every week. Admission is very affordable, and children under 12 get in free, so you and your family can make a day exploring programs and exhibitions highlighting the artistic and cultural traditions of the Greek culture. There are also regular lectures and special exhibits on the Greek American experience. The museum's permanent exhibition, "Cyprus Revealed: The Golden Green Leaf in the Wine Dark Sea," is the largest collection of Cypriot artifacts outside of Greece.
- Snap a photo of the Peristyle: The Greek columns at the corner of Van Buren and Halsted Streets are hard to miss.  The work of local artist Andy Pappas, the Greektown Peristyle was installed in 1998 as a  'welcome gateway' to the neighborhood.  At the perfect angle, you can snap a photo of the classical columns with the iconic city skyline in the background, perfectly capturing the harmony of old and new that characterizes Chicago's architecture.
- Dine on the roof: Make like the restaurant's mythical namesake and fly up to the rooftop of Pegasus Restaurant and Taverna (130 S. Halsted St.) for authentic Greek cuisine and stunning views of Chicago's famed skyline.  Open since 1990, Pegasus may be one of the newer restaurants in Greektown, but it is a favorite of both locals and visitors looking for good, authentic Greek food 365 days a year.  Greek-style tapas (Methzentes) are a great way to sample a variety of Mediterranean specialties.  Their dining room downstairs is a cozy alternative for days and seasons when rooftop dining may not be such a great idea.

For more information on neighborhood, including detailed attractions, shopping, and dining listings, check out our printable neighborhood guide and interactive Google map. For even more self-guided neighborhood treks, click here.
Tags: Cultural Heritage, Museum Trek, Neighborhood Trek, Photography Tours, Public Art and Outdoor Sculpture